We Provide the Foundation for
We provide the foundation for
Events.
MANITOBA'S ULTIMATE EVENT RENTAL COMPANY
Pinnacle Event Rentals is a full-service event rental company located in Brandon, Manitoba. We supply the framework for events of any occasion – from fairs and festivals to fundraisers, parties, weddings, and more.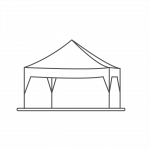 From tent top to tabletop and everything in between, Pinnacle offers event rentals including tents, lighting, flooring, staging, draping, decor, and more.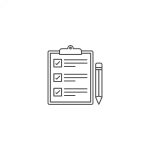 Our event crew is available for event set-up, including delivery, set-up, and takedown. We provide stress and hassle-free products and services.
A few guidelines on how to represent our brand in the right way.

This is our main logo and should be used as much as possible. Please keep our logo away from busy backgrounds, use the black logo on light colours and the white logo on dark colours.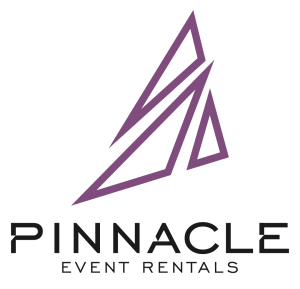 In the event that our main logo does not fit into the design, please use the white or black version of our alternate logo with the same colour rules as the main logo.
Please respect our brand by ensuring the logo is well-represented. The logo should never be rotated or skewed, and should never be displayed as less than 1 inch in width.
The Pinnacle Triangle should always be Pinnacle Purple.
When it comes to colour, we use it sparingly. We do our best to fill our designs with pleasing imagery.
We keep things clean with black and white and use accents of Pinnacle Purple when needed.
HEX #804C7D
RGB 128, 76, 125
CMYK 55, 81, 25, 6
Pantone 5135 C
We've made it super simple when it comes to our typography.
Our only font is Montserrat, but we use it in different widths.
Headers should either be all uppercase and bolded OR bolded with the first letter capitalized in each prominent word.
Paragraph text should always be regular width.
We have taken time and energy to build our brand to represent our business to the best of our ability.
Please ensure that you use language from this media kit when writing about our brand. If you have any questions, please contact our marketing department.
Our slogan is 'We are the foundation for events.' Please use this when describing our company.
Please refrain from using phrases like 'one stop shop', although we do offer multiple services under one roof, we are not a one-stop shop for all services in the event industry and do not want to misrepresent our services.
When posting about Pinnacle Event Rentals on social media channels, please tag us appropriately (view social handles listed under contact information).
If you are advertising our company for a tradeshow, or event, please ensure you speak with our marketing department about which pictures or graphics to use to properly represent us.
To help you represent our brand accordingly, we've provided photography that can be used across any platform.
#TeamPinnacle – Meet our team at the link below.
Ty is our fearless leader who has pushed the limits of our industry and inspired us to grow as a team and as a company.