Everything you need to know about renting a tent
with Pinnacle Event Rentals
When planning an outdoor wedding, event or gathering, your tent is one of the most important considerations.
We've compiled some information to help you choose the right tent for your event. Check out the list below for how we can help.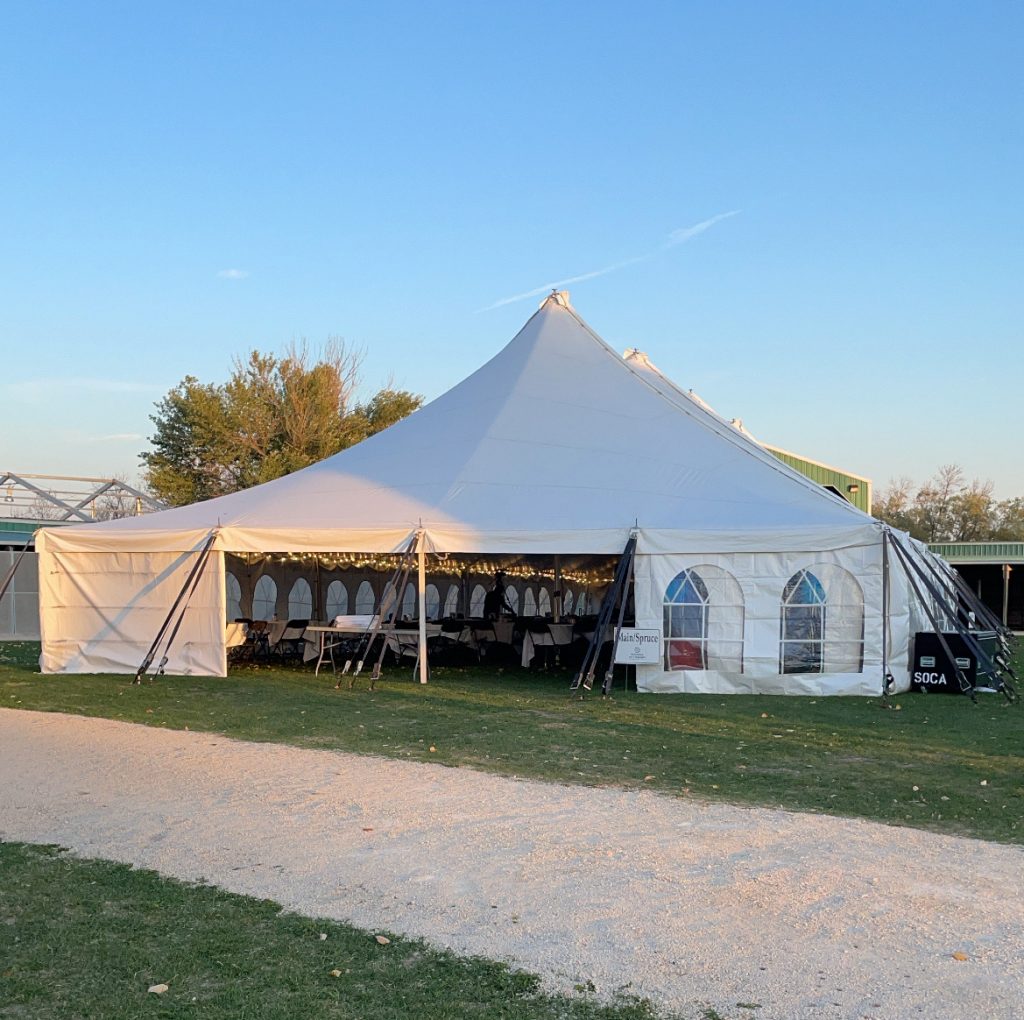 Let's start with Murphy's Law – If you're having an outdoor event, unless your venue has an alternate indoor location, you'll need some kind of contingency plan for bad weather.
Even if the weather is great, the heat can kill a party. A tent makes it possible to have a party nearly anywhere. Instead of renting out a banquet hall, you can have your party in a garden or at a meaningful location like a family farm or the lake.
What size of tent do I need?
The number one question anyone planning a tent event has is "How big of a tent do I need?"
Don't be intimidated by the huge range of sizes, the great thing about having your event inside a tent instead of a building is that you can build a space that works for you.
Make sure to check out our Tent Capacity Chart.
Things to Keep in Mind When Calculating Your Tent Size
Take Your Guest Count
If everybody is going to be seated at 8′ round tables, you need a 10'x10′ area or 100 square feet per 8 guests.
Example: 150 guests divided by 8 comes to 18.75 (always round up to make sure you have enough tables to seat everyone). 19 x 100 = 1900 Square Feet.
Don't forget to consider special seating for special guests (ex: bridal party).
What type of dining experience will you be providing your guests with?
If you're thinking buffet, make sure you plan out space for this as well. If you've booked catering services, check with them to see if they need extra space for set-up, plating, serving, etc.
Make sure there's room to dance!
Our dancefloors come in one size (12′ x 15′), this helps tremendously when planning your layout. For stages and dance floors, you need more than the actual size of these items since nobody wants to sit two feet away from the stage.
Figure out what else you need room for.
Do you need to accommodate a stage for a band? Will you have a gift/guest book table? Will there be a bar? All of these things are going to take up real estate in your tent.
PINNACLE'S TENT CAPACITY CHART
| CAPACITY | TENT AREA | AVERAGE PRICE |
| --- | --- | --- |
| | | |
| | | |
| | | |
| | | |
| | | |
| | | |
| | | |
| | | |
| | | |
| | | |
| | | |
| | | |
| | | |
| | | |
| | | |
| | | |
| | | |
How do I plan the layout of my tent?
It's important to sketch the layout of what your tent will look like. Where will you put the guests, the bridal party, buffet, stage, or dancefloor? You can do this on graph paper but if that's not your thing, there are several online programs.
Options Coming Soon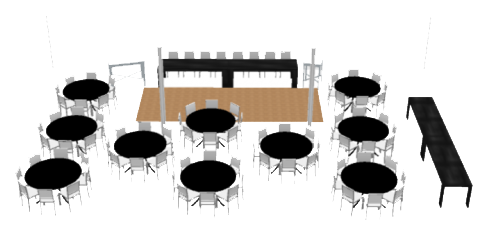 Which add-ons should I rent?
Our tent rentals include delivery, set-up and take-down. But we offer a wide variety of event rentals to help limit how many vendors you'll have to work with. When it comes to planning an event in a tent, you need to think of the following:
Ceiling Drape
Lighting
Tables + Chairs
Serving/Buffet Set-up
Linens
Generators
Dance Floors
Stages
& more
Check out some of our top Tent Event categories below.
Need help getting started?
Don't Forget to Click Before You Dig
Line Locates are necessary for any service where we will be digging or puncturing the ground. For all tent rentals, the renter is required to contact and arrange underground line locates by all utility companies (electricity, hydro, telephone companies) by contacting click before you dig.
Regardless of the previous locates, lines must be identified no more than 3 weeks prior to the event as line locates expire after 3 weeks.
Inspections MUST be done.
If locates are not completed, set-up will not begin and full payment is required.