The Best Tent Rentals in Winnipeg
For the best tent rentals Winnipeg hast to offer, Pinnacle Events is the perfect solution for weddings, graduation parties, and corporate events. Whether you need a large or small tent to rent, you have come to the right place. These tent rentals in Winnipeg are perfect for all kinds of occasions. And, we offer delivery, set up and pick up with all of our rentals. Get the perfect venue for your event with a large white tent that is perfect for large groups. With the best style and selection in Winnipeg, you're sure to find a tent that best suits your needs even for small intimate parties. We also offer a large selection of tables and chairs that can be rented with our tent rentals in Winnipeg and surrounding areas. Let us help you create the perfect seating arrangement for your guests, as well as casual conversation areas.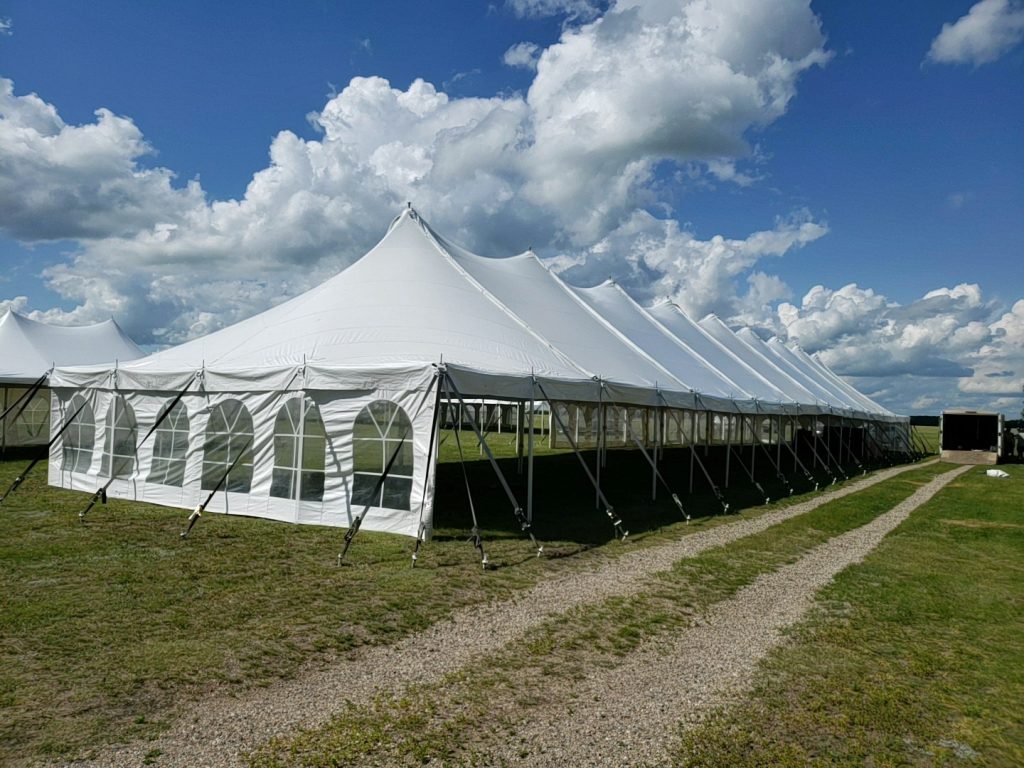 All you have to do is order up the size you need and we do the rest.  Our friendly staff would love to speak with you about the perfect size tent rental for your next event.  It simply couldn't get any easier than that.  We will do all the hauling and heavy lifting. Our washroom trailers are a great addition to any tent wedding, You don't want your guests having to go into those stinky porta potty's .  After all, this could be someone's big day. It is important that everything goes as planned.  For the best selection of tent rentals Winnipeg has to offer, give us a call today. 
Create the perfect event in Winnipeg with Pinnacle Event Rentals
While it's true that there are no shortage of wonderful community events in Winnipeg, we're happy to have provided event rental equipment for some of the largest events in the area. Our tents have been used at events like Food Truck Wars 2019, Brandon Summer Fair.  Our selection of tent rentals are also great for large fundraiser events, craft shows and hobby shows as well. Don't get stuck in the rain! Get the best tent rentals Winnipeg has to offer to ensure your guests are not left out in the rain.  The weather in Winnipeg can be all over the map.  Our tent rentals not only provide cover for rain, but they're a great place to catch some shade on those hot summer days. We also offer side walls with all or our tent rentals in Winnipeg.  All of our tent rentals will arrive clean and ready to use. We take great pride in all of our equipment and it shows. We want our tent rentals to be perfect for your event, wedding or party. 
Everything we rent is fully insured. It is important to ask, should you need to rent. Insurance is a key component in business. Andrew Agencies takes care of all our insurances needs.  We believe in conducting our business properly with the proper insurance and any inspections that need to be done. We are not a fly by night party rental company but are a professional event rental company here to serve the wonderful people of Winnipeg and the surrounding areas. Pinnacle Event Rentals sets a high bar with our professionalism and courteous service. We believe in taking care of our customers and it shows. Be sure to take a look around at the best selection of tent rentals Winnipeg has to offer. While we are the leading experts in tents in the area, we also offer other fun items including, Washroom Trailers, Staging and Dance floors .  If you have a large event to plan such as a wedding or community gathering, you know how overwhelming it really can be. Let us help with our tent rentals in Winnipeg or other surrounding areas. We will come out and set up our beautiful tent rentals for your occasion.  We will do all the heavy lifting and setting up, all you have to do is enjoy the party!