Dreamy Clear Top Tent Wedding
Let's do what we love and do a lot of it.
This is Clara.
Clara is a brand new outdoor venue in the heart of Brandon, Manitoba. This beautiful clear top tent is the perfect location for a dreamy summer wedding.
Your future is bright at Clara.
Our team put together a full concept styled shoot at Clara to show off its potential and we're excited to share it with you. Here's what we'll cover:
Venue Location + Location Advantages
Exclusive Venue Caterer
Exclusive Event Decor Rental Company
Ceremony + Reception Spaces
Our Styled Shoot Vendors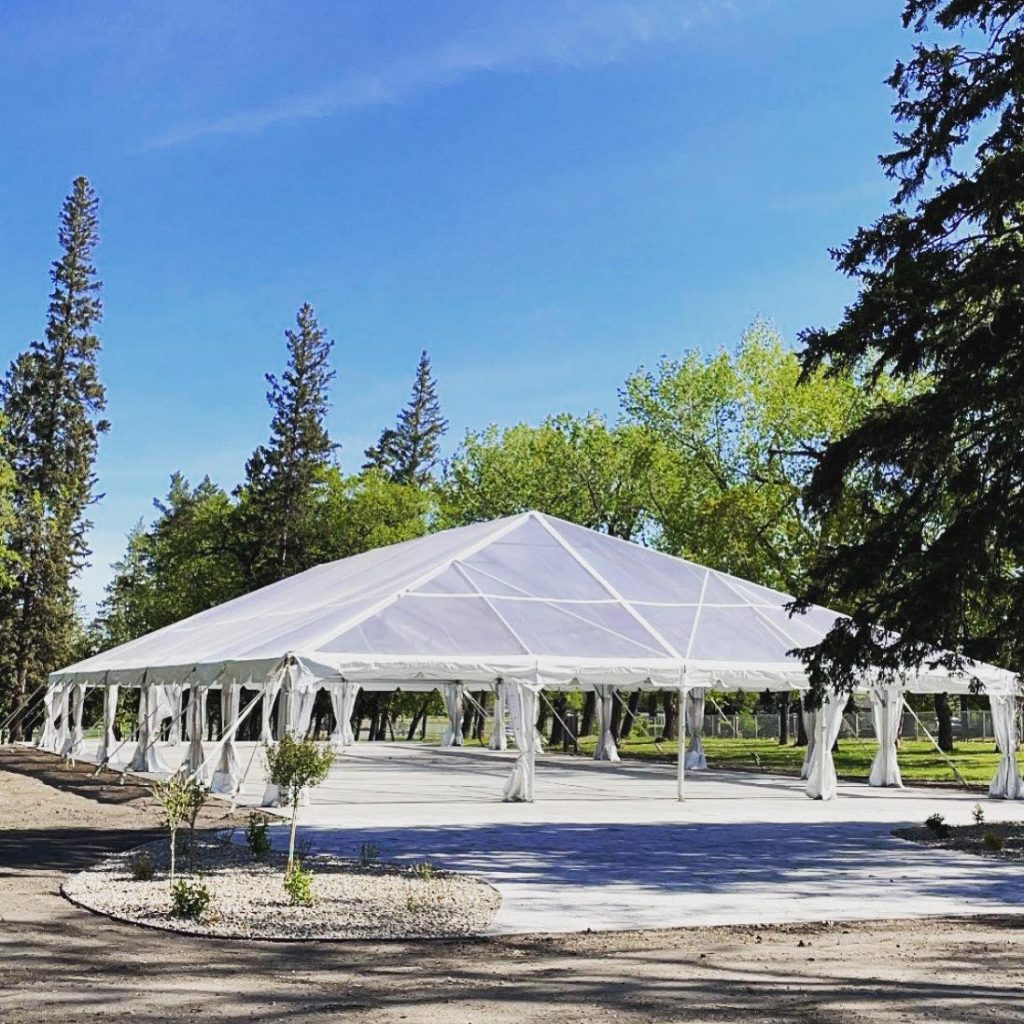 1. Venue Location + Location Advantages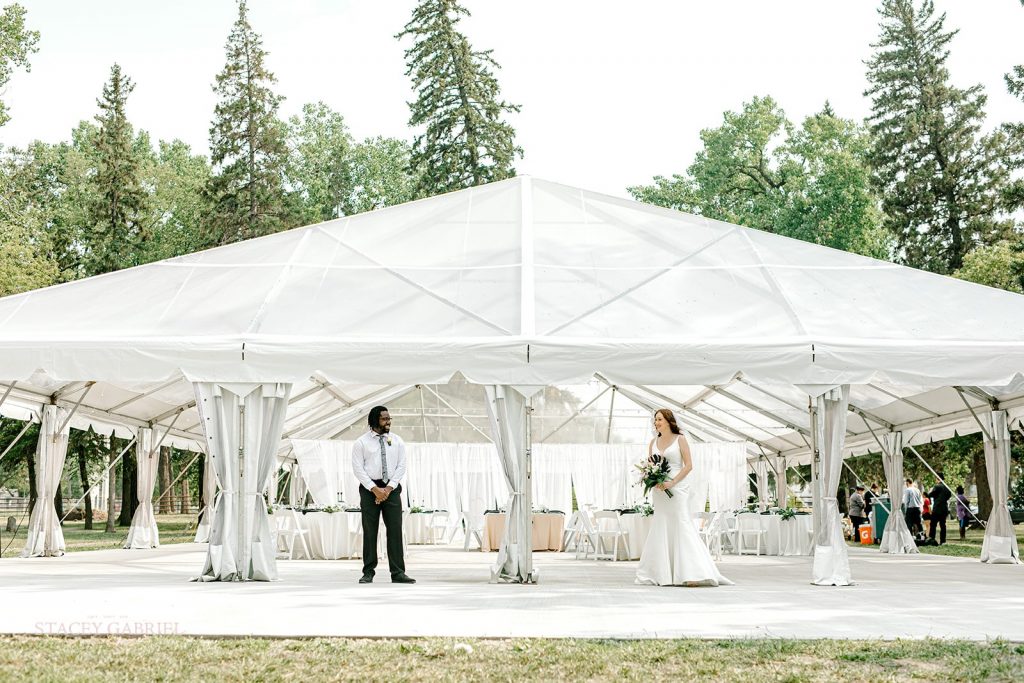 Clara is a brand new clear top tent venue situated within the Patmore Forest – home to trees over 100 years old. The diverse and mature trees provide a sense of privacy without compromising the services offered within Brandon's city limits.
Clara is located on Brandon's iconic Keystone Grounds, in the heart of the city. The Keystone Centre is home to many of Brandon's community events and the grounds are cultivated with all types of Manitoba bred trees.
Get a beautiful, outdoor wedding with open space, trees, and an intimate vibe right in the middle of the city, next to tons of wonderful accommodations. There are more than a handful of hotels within walking distance of our location, as well as convenience stores, grocery stores, and more.
2. Exclusive Venue Caterer – Centreplate
Centreplate is the in-house caterer at The Keystone Centre. We provide the venue, The Keystone Centre provides your services, from food and beverage, serving staff and bar tending to tables and chairs and more!
Centreplate is the exclusive caterer at Keystone Centre and the food they've been creating is bougie as heck. Check out the pictures below and contact them for more information!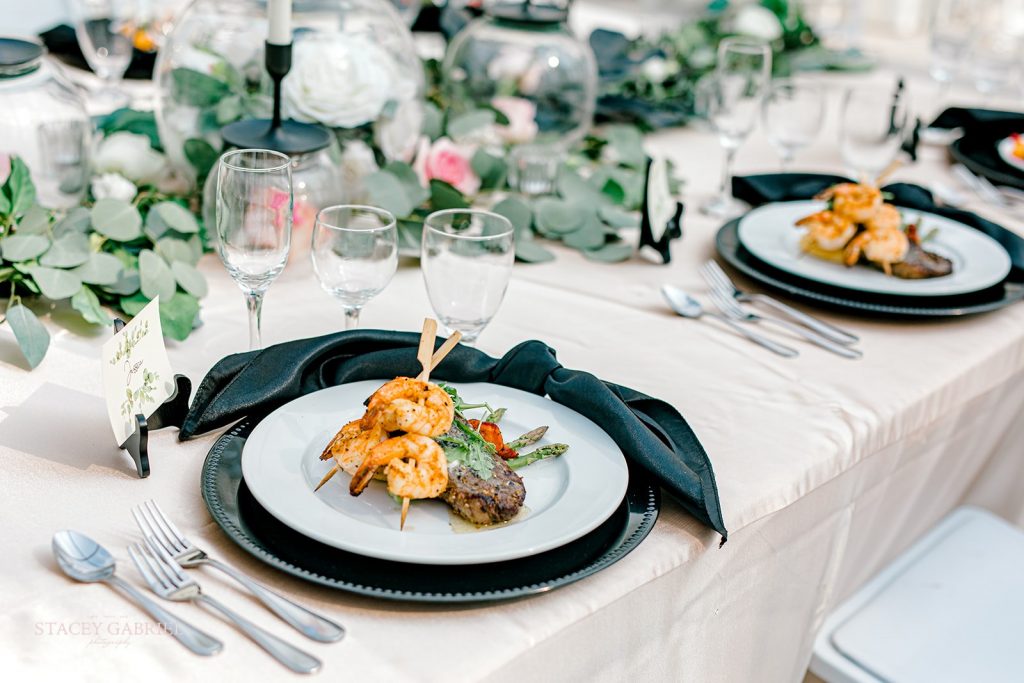 3. Exclusive Event Decor Rental Company – Pinnacle Event Rentals
Pinnacle is our name and decorating is our game! Well at least one of our games…
We are an event rental company, and that includes tents, tables, chairs, portable washrooms, and decor.
Our team of seasoned Event Consultants will help you pick out your decor, give you professional industry tips, and we'll even do a full set-up to help you keep the worries away on your big day! Our team LOVES decorating Clara, no matter the occasion.
The amazing Shonah put this styled shoot together, and we're loving the moody contemporary vibes with the airy white and black accents. Who doesn't love a good monstera leaf?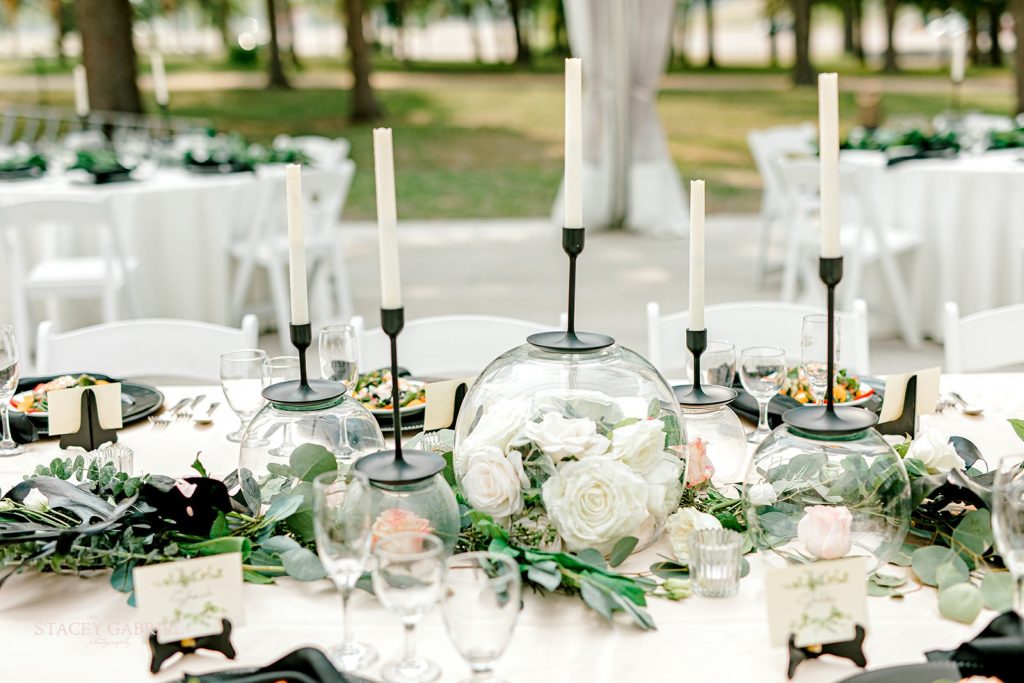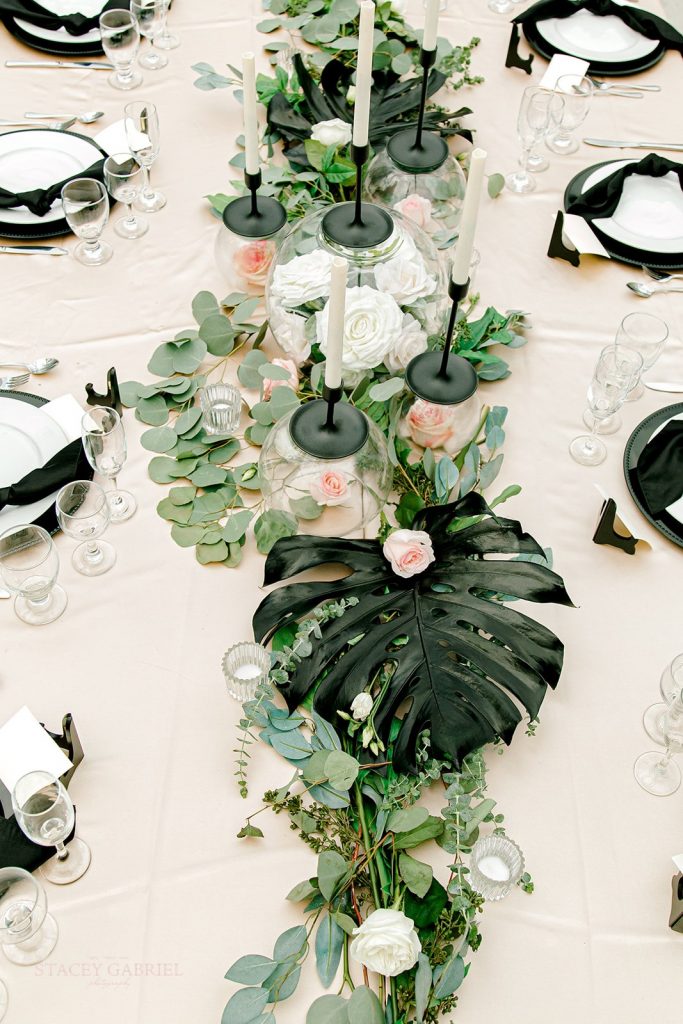 4. Ceremony + Reception Spaces
There's room to get creative with your ceremony and reception spaces.
Clara is a large space located on a big green meadow in the middle of the Patmore forest. This space has so much room to get creative with your ceremony space.
This dreamy clear top tent is surrounded by beautiful trees that would be a perfect background for any of our arches, with space for your guests to share your special moment. There's also room in the tent to create an intimate ceremony space under the clear rooftop (like the ceremony space in the picture to the left).
The floor is open for many different floor plan options and we can set up draping to create different areas for whatever your needs are.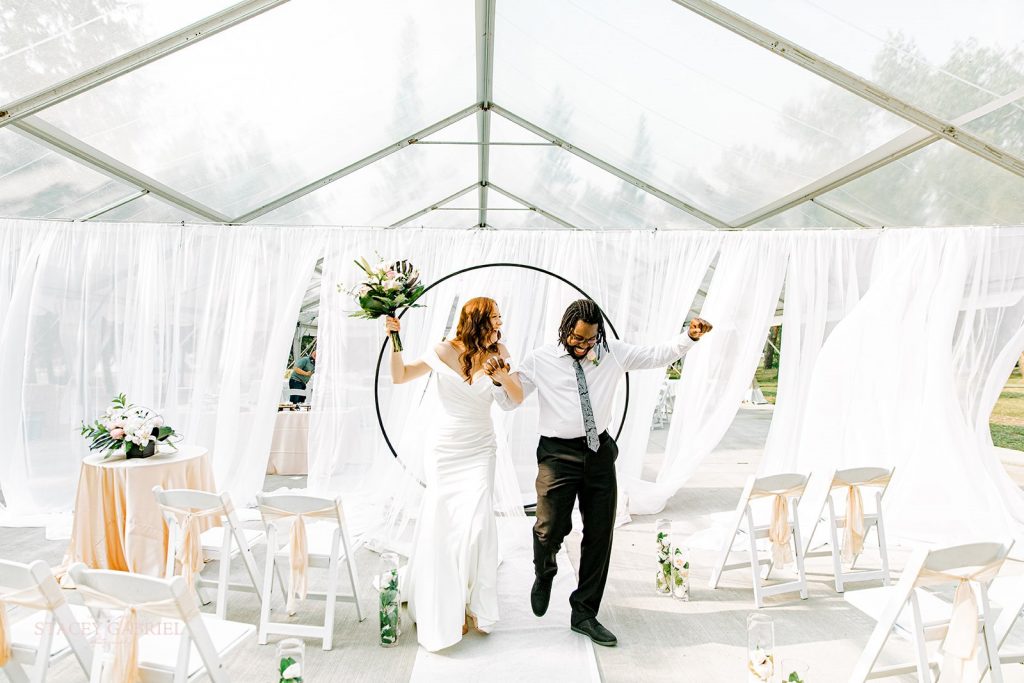 5. Our Styled Shoot Vendors
Pinnacle Event Rentals – Decor
As a Wedding and Event Rental company, we, Pinnacle Event Rentals, love to put together these wonderful shoots to show off our collection of rentals, from tables and chairs to back drops, arches, greenery and decor. Check out our different collections on our website and start building a quote for your next event now on our website – Link below.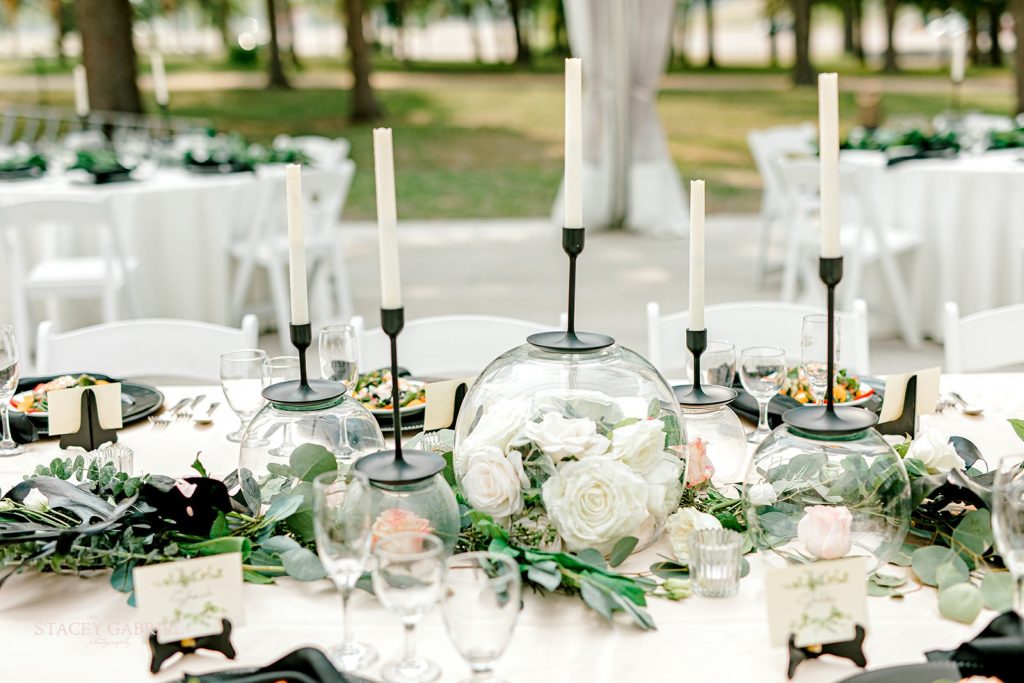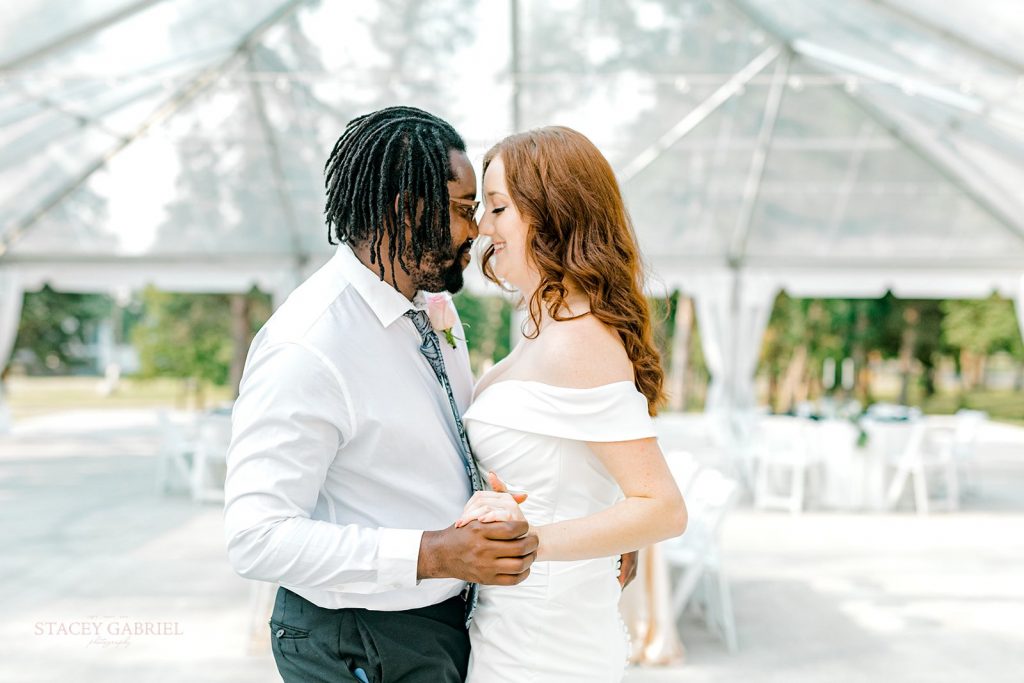 Stacey Gabriel – Photographer
Stacey has the eye for beautiful, light and airy shots. She perfectly captured the bright feeling of Clara in these photos and we are never sorry when we get her to be our photographer. Located in Brandon, Manitoba, Stacey aims to showcase authentic laughter, love and connection. Check out her website or social pages.
Muse Bridal Studio – Dress
Unlock the beauty in you at Muse Bridal Studio! At Muse Bridal Studio, they are supportive and honest, and definitely won't stop helping until you choose the dress of your dreams. They are currently taking appointments only. Check out their website to book your appointment or follow them on social media!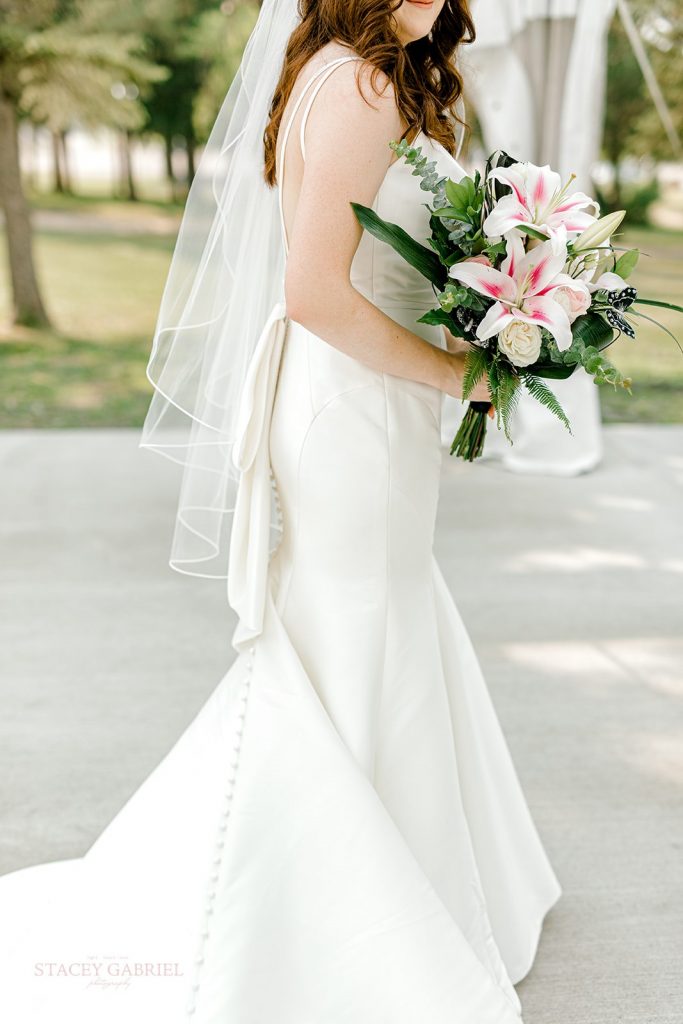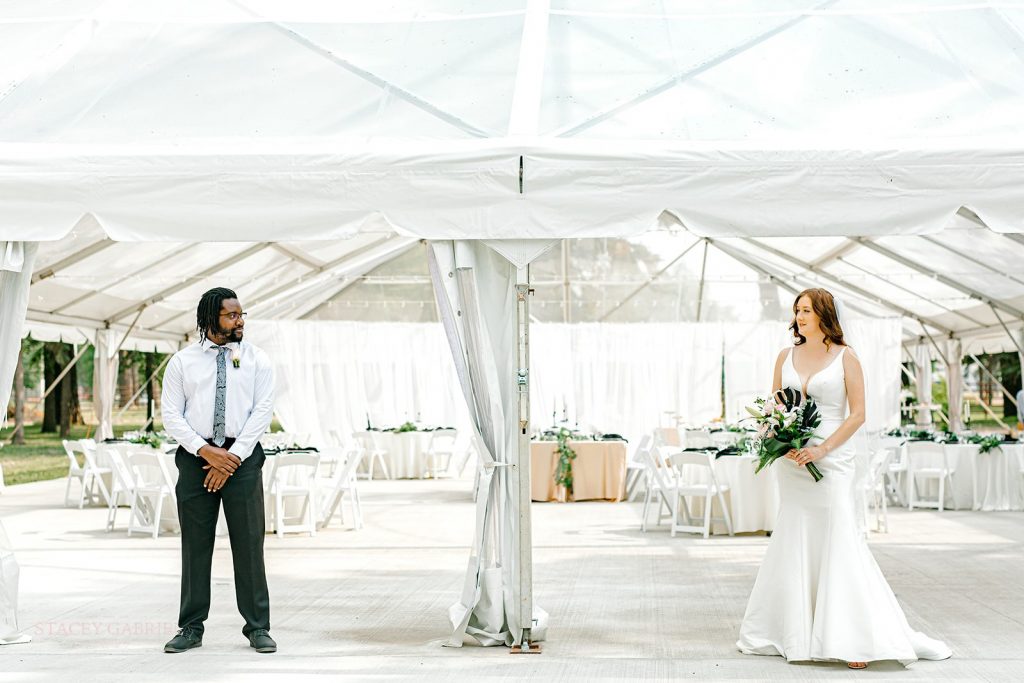 Trident Films – Videography
Content is Key and these shoots wouldn't be what they are if it wasn't for the photography and videography. We highly recommend Trident Films for couples looking to create a loving video story about their magical day. Check out Trident Films!
BloomBox – Florist
The BloomBox has been hand-delivering premium floral arrangements and gift baskets to help strengthen relationships, give love and support, and celebrate life's special moments since 1986. From birthdays to anniversaries to commemorating a loved one, and every little "just because" moment in between.
These floral arrangements were to die for, and we definitely recommend checking out BloomBox for any of your floral needs.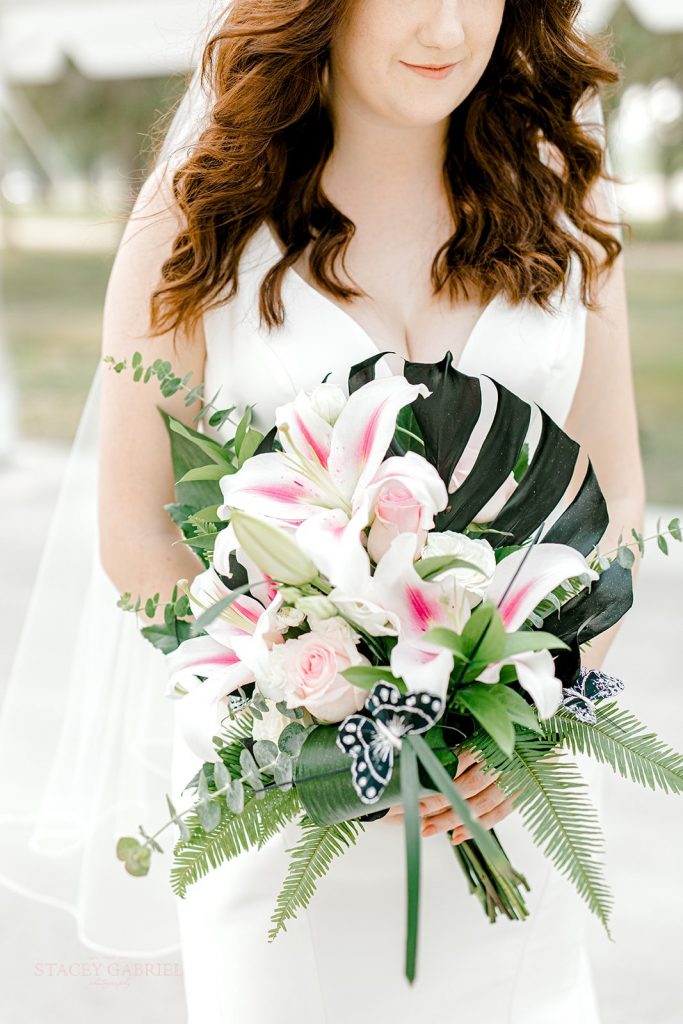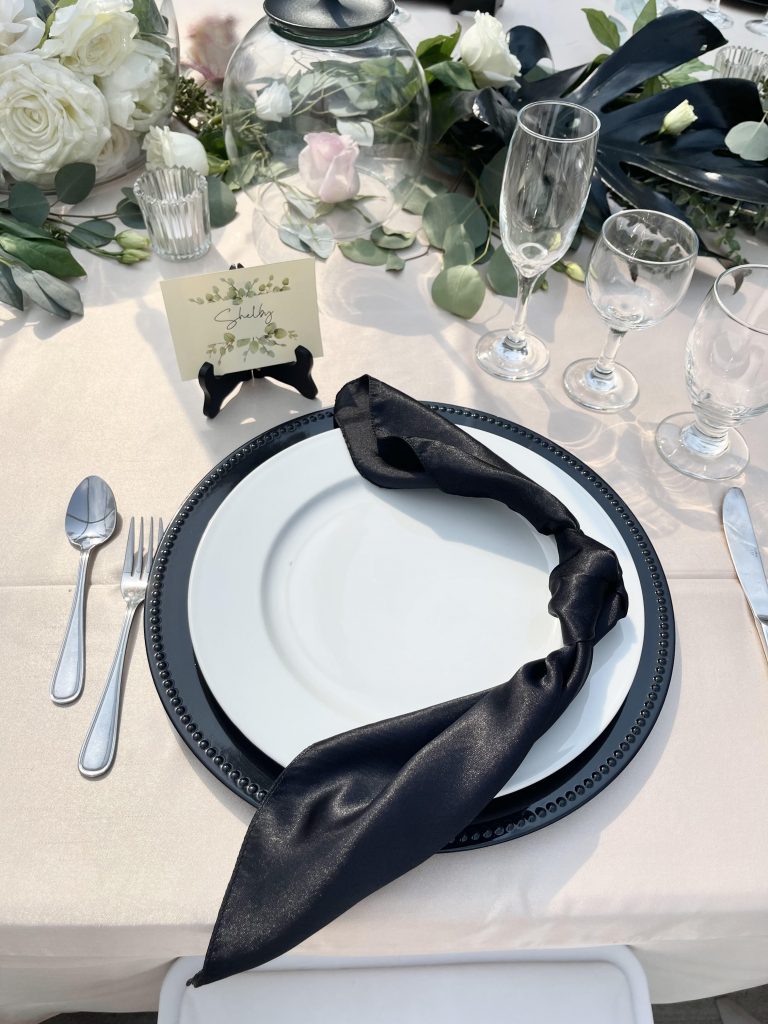 Stay Weird Design x Collaboration – Stationery
Shelby is a local artist who works in both the print and digital worlds. Her designs are hand drawn and unique to each project and she'll always have a weird moment for you to remember your time together. Check out her designs on Instagram!