🥂 3 Easy
DIY Napkin Folds 🥂
#WisdomWednesday Post Written by Shonah
April 14th, 2021
Let's learn 3 easy DIY napkin folds.
Although a napkin is one of the most standard pieces in any table decor, we find that the way it is styled often gets overlooked. This small detail can really give your overall reception ambience a boost. Look below to see the difference a well-placed napkin can make. We used all of the same pieces: gold charger plate, gold cutlery, dusty rose napkin, water goblet, wine glass and classic dinner plate to give you 3 distinctive looks!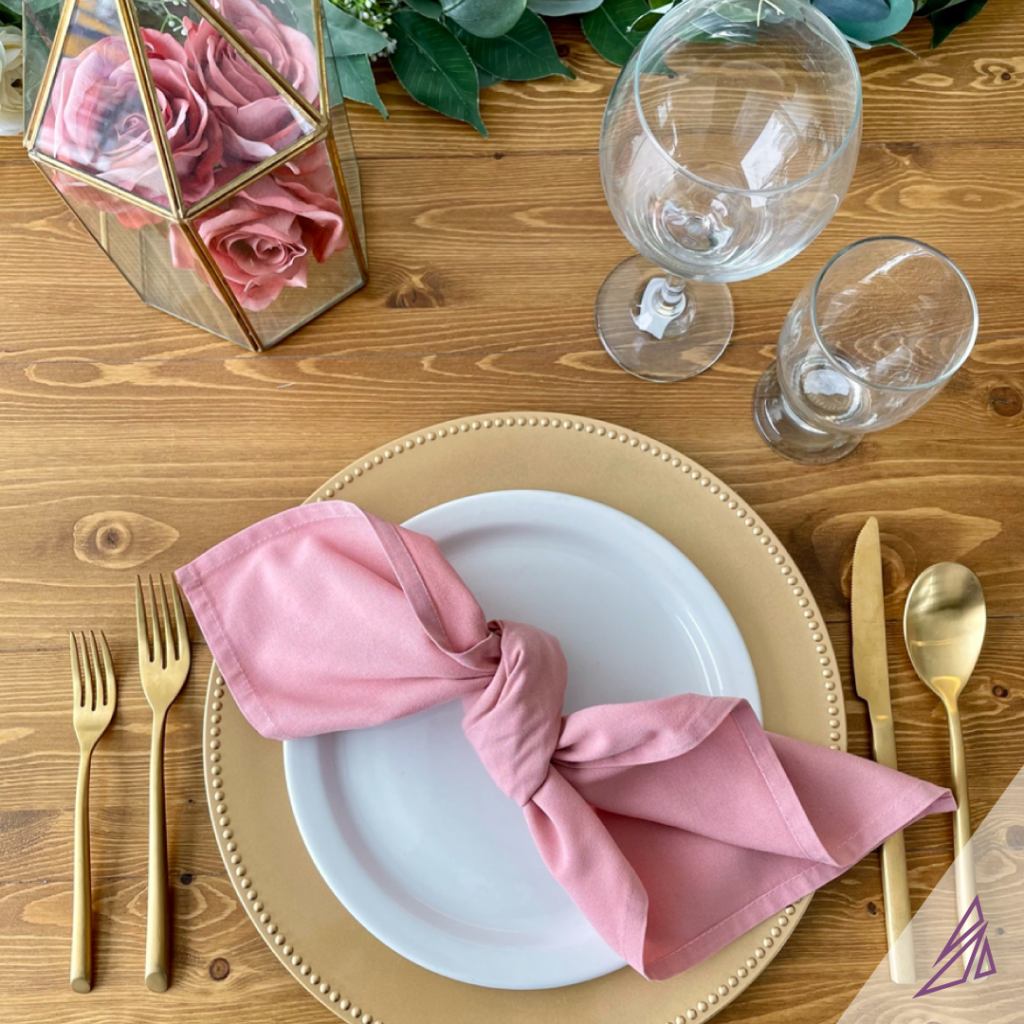 Look 1️⃣: The Knot
This year's most popular napkin fold, The Knot, is our personal favourite. It's simple to do and the end result gives your table an added bit of femme personality without going overboard.
Look 2️⃣: The Band
We recommend this look for tablescapes that have a lot of colour in the center. By tucking the napkin under the plate, it allows the colour of the napkin to play off of your centrepiece while not having it overtake the overall feel.
Look 3️⃣: The Classic
This is the standard go-to napkin fold. We recommend this fold for neutral tables that still need a pop of colour. This three-step fold is simple to achieve, yet makes a big impact on your table.
Thanks for learning about 3 easy DIY napkin folds.
Check out our collection of napkins and linens.
We have a wide assortment of colours and fabric along with napkin rings, table cloths, and table runners.
How will you showcase your decor theme through your napkins and/or other linens? Check out our Tablescapes Inspiration on Pinterest for some inspiration.
Have some Napkin Inspiration to share?
Drop a comment down below, send us a DM, even send us some pins!