How to DIY Boho Chic Wedding Decor
When you focus on the good, the good gets better.
Boho Chic has been the appeal this summer with a lot of our brides. We've brought in brand new Macrame Runners and have been renting out our Eclectic Vase Collection on a regular basis! DIY Boho Chic Decor is an easy feat for anyone to produce, we'll introduce you to the decor we used and the vendors who made this Styled Shoot possible.
Has anyone else heard the words pampas grass as much as we have this year?
DIY Boho Chic Wedding Decor: How to get this look?
A simple Colour Palette with a splash of brightness

Harvest Tables

Macrame Runners with a splash of colour

Eclectic Vases/Mismatched Vases

Macrame'd Wood Arch

Now Put it All Together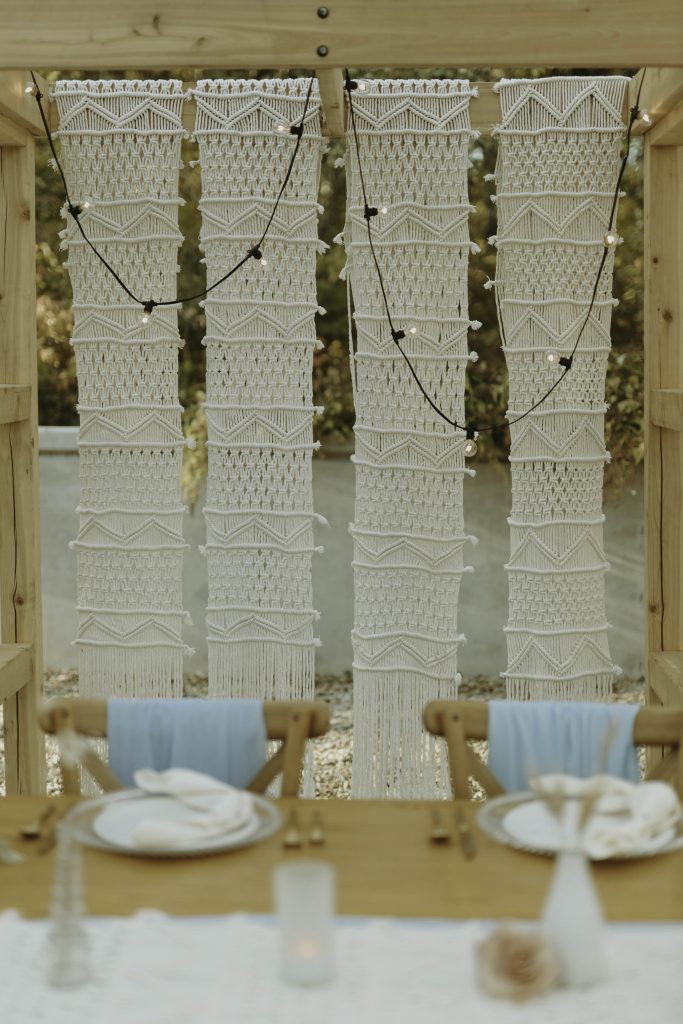 Picking a colour palette is the first step to deciding how to bring your DIY Boho Chic Wedding decor to life. As Event Consultants, we always start on Pinterest by building a board full of inspiration for our shoot. Once we've done this, it helps us pick a colour palette so we can start picking fabrics, and decor.
Coolors.co is our recommendation when picking a colour palette. Not only do they have the ability to hand pick your colours, you can search through tonnes of pre-made palettes via themes and tones.
Harvest Tables are hardy, beautiful and easy to decorate. There is no need for tablecloths or placemats and they honestly go with any chairs.
Our harvest tables are perfect for a DIY Boho Chic Wedding and can be rented for any type of event.
Check out the link below to view our pricing.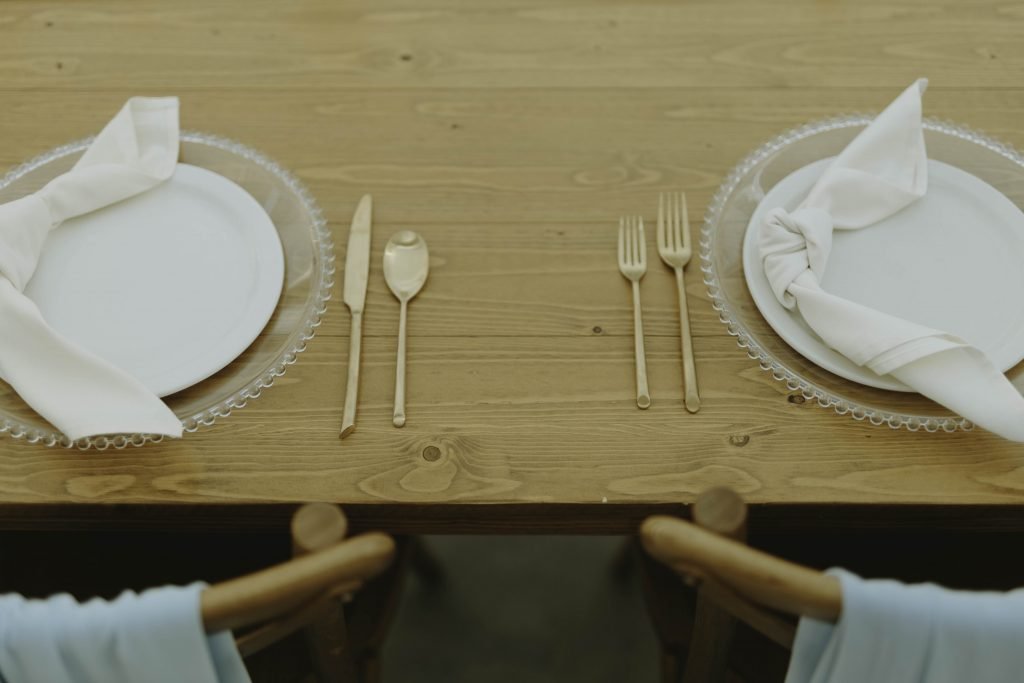 Macrame Runner with a Splash of Colour
Macrame is the epitome of Boho, not only does it bring the vibe but it's soft creamy colour matches the sepia tones of a bohemian theme. The only thing missing from this beautifully knit runner is a splash of colour.
For our DIY Boho Chic Wedding Decor, Emma chose a powder blue as her dash of brightness, the silky sheen of the blue chiffon fabric brings a light and airy elegance to the rest of the decor. Other colours that would add a great vibrance are sage green, burnt orange, navy or a deep cognac.
Eclectic + Mismatched Vases & Table Decor
Bo-Ho – Defined as; Socially unconventional.
A lot of designers and brides can be perfectionists about their wedding decor. Most people go for symmetry and precision, but when it comes to the Boho Style, asymmetry and mismatched decor are to die for.
Not only did we use our Eclectic Vase Collection (which includes numerous different shapes, sizes and styles of clear glass vases) but we also added in vases from our solid collection, adding some white and frosted votives to the table. This pleasant mix of decor with the added pampas and select wheat stalks created this beautiful tablescape.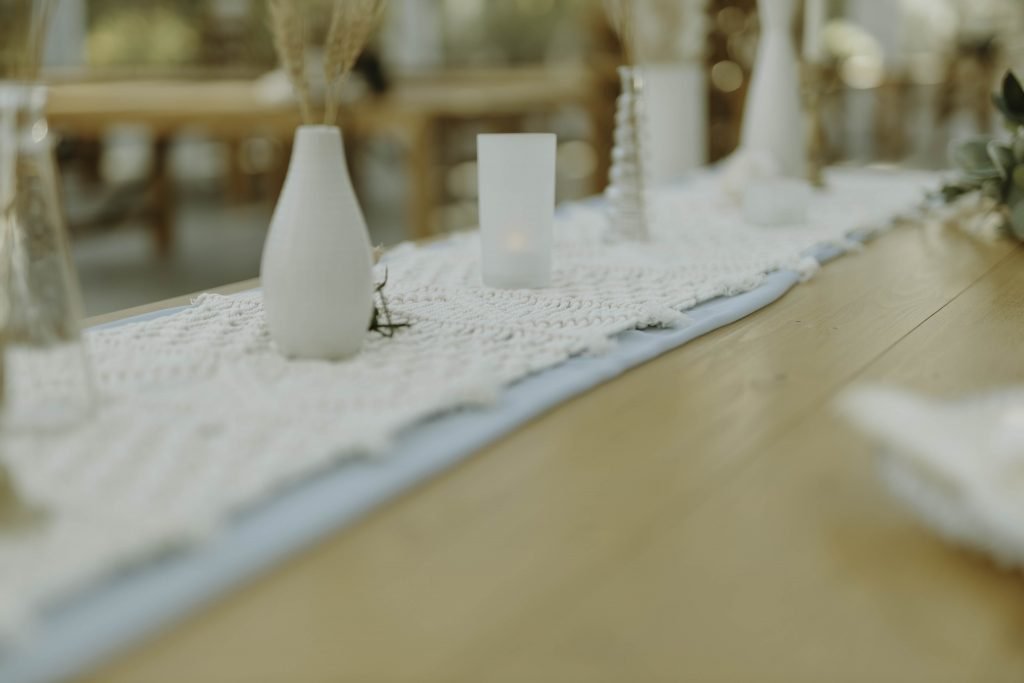 With the plan of having Macrame Runners on all guest tables and the head table, in the spur of the moment we decided to hang our Macrame Runners over the wood arch, creating a beautiful new creation for the perfect DIY Boho Chic Wedding Backdrop for photos or as a head table backdrop.
We are certain that this new idea is going to be all the rage in the 2022 wedding season, and it's as simple as 1, 2, 3. If you're looking for that perfect bohemian accent to your wedding, ask Emma about this new discovery.
Check out how we brought everything together with our amazing vendors below!
Pinnacle Event Rentals – Decor
As a Wedding and Event Rental company, we, Pinnacle Event Rentals, love to put together these wonderful shoots to show off our collection of rentals, from tables and chairs to back drops, arches, greenery and decor. Check out our different collections on our website and start building a quote for your next event now on our website – Link below.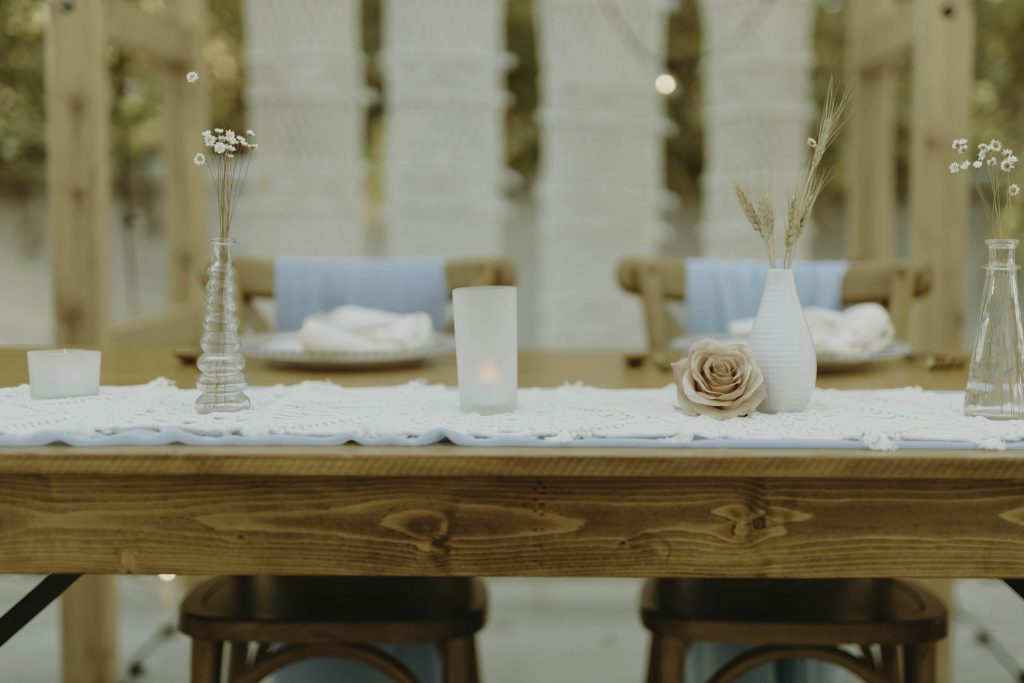 Boho Chic is build with a care-free elegance and we are certain that this is a a look that our DIY brides can pull off – or get one of our Event Consultants to do a full decorate on your wedding and enjoy the ambiance of the bohemian lifestyle.
Macrame, Pampas Grass, Miscellaneous Greenery, Warm Tones and a splash of colour is the perfect way to hit all the DIY Boho Chic Wedding Vibes.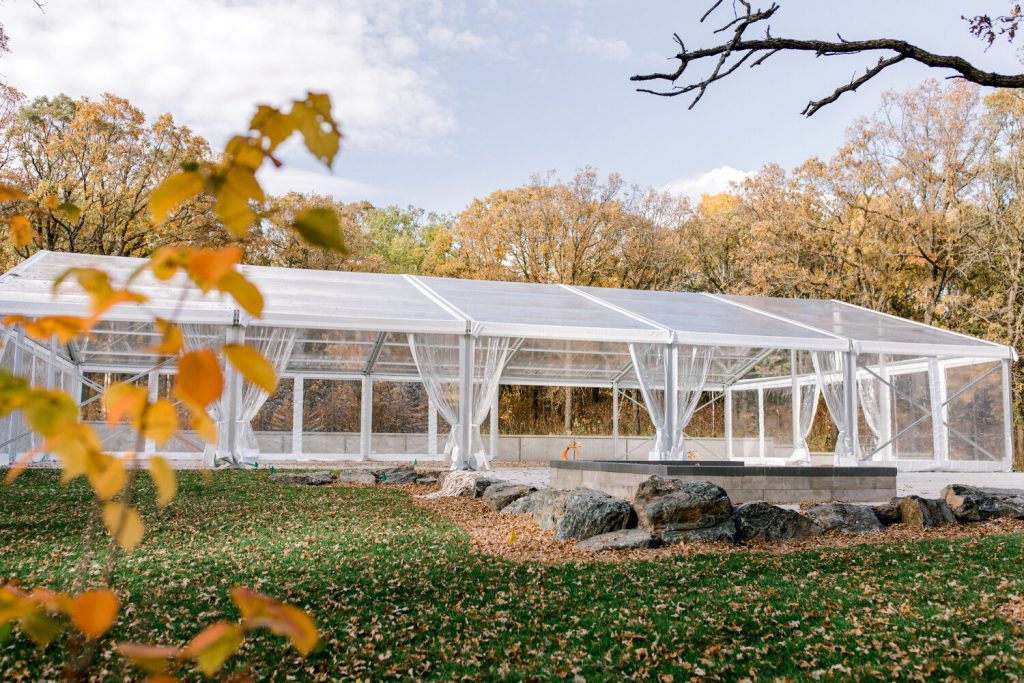 Oakland Estate – Venue
Oakland Estate is a brand new outdoor wedding venue nestled under beautiful oak trees, located only 20 minutes South of Brandon on a beautiful 24 acre property. The venue is open from May until the beginning of October and they are currently taking bookings for the 2022 and 2023 seasons! Check out their website below.
Riverbend Photography – Photographer
Cassidy of Riverbend Photography was Emma's first choice for this shoot. She knew right away that the mood of Cassidy's photos would fit the tone of this project right on point. Riverbend Photography is a local photography company, located in Portage La Prairie, check out her website.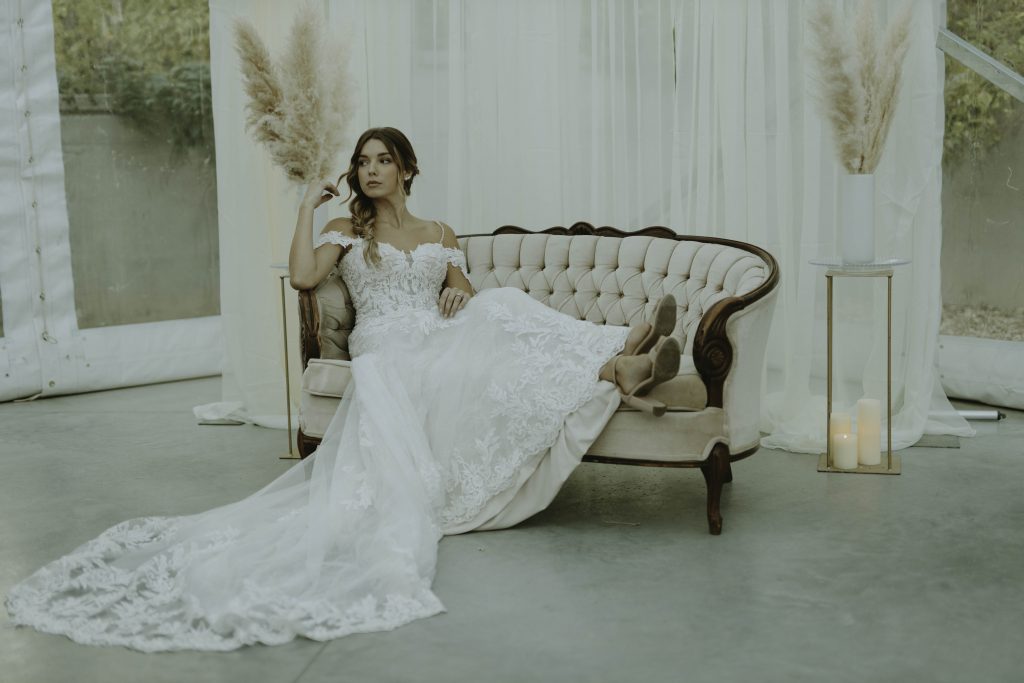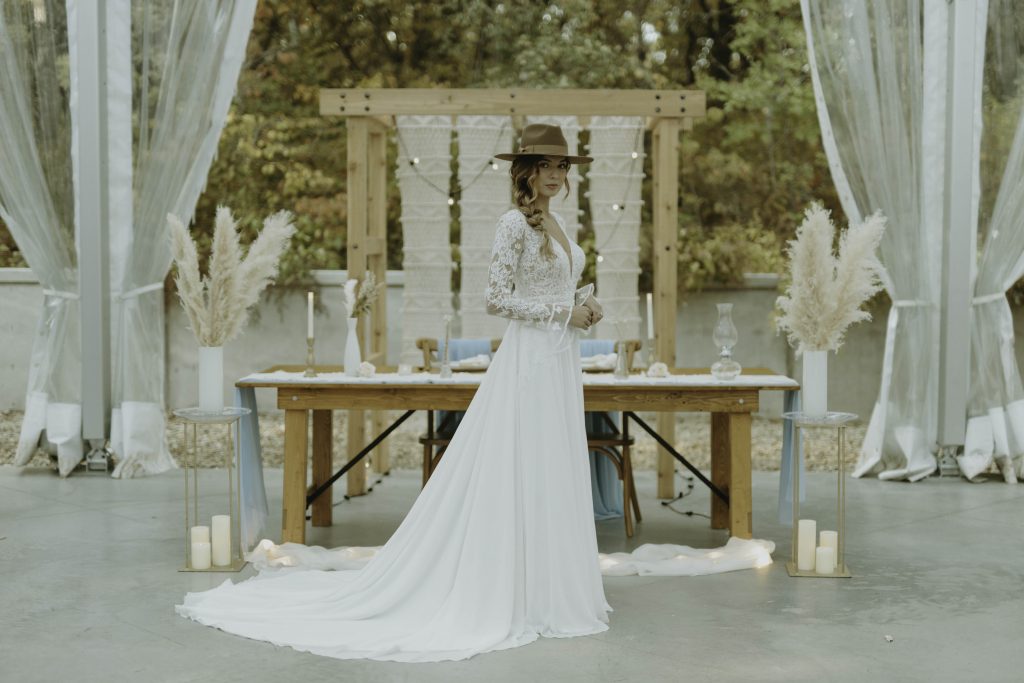 Muse Bridal Studio – Dress
Unlock the beauty in you at Muse Bridal Studio! At Muse Bridal Studio, they are supportive and honest, and definitely won't stop helping until you choose the dress of your dreams. They are currently taking appointments only. Check out their website to book your appointment or follow them on social media!
TipTop – Suit
Make Your Wedding a #TipTopWedding – At Tip Top they believe every man deserves to look great – especially on his big day! We're so happy that Tip Top supplied this gorgeous blue suit for our Boho Chic styled shoot – check them out on their website.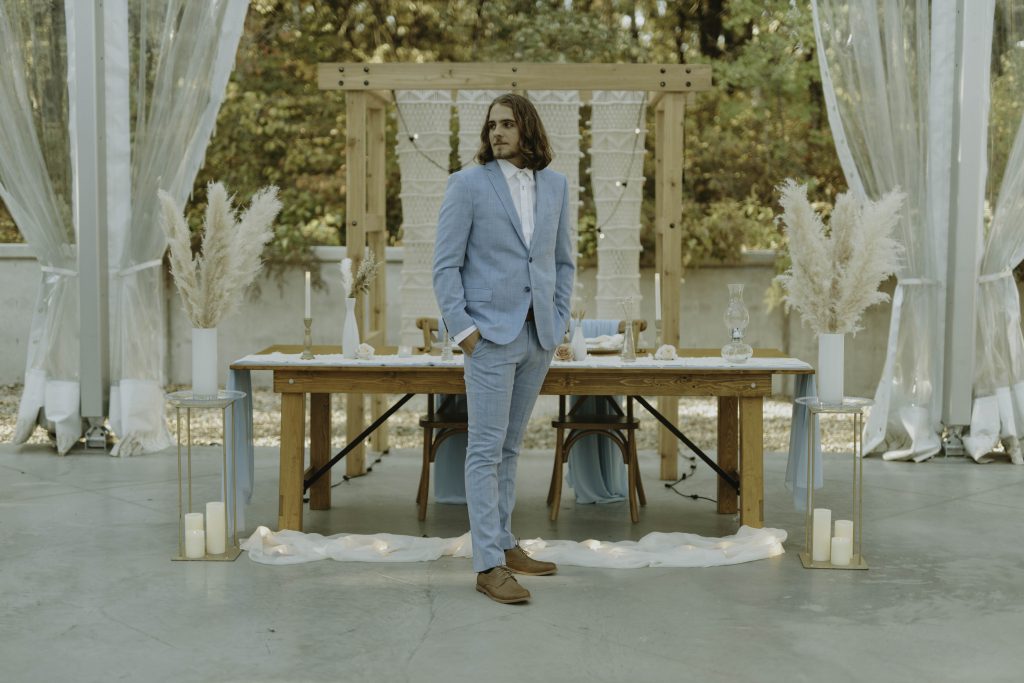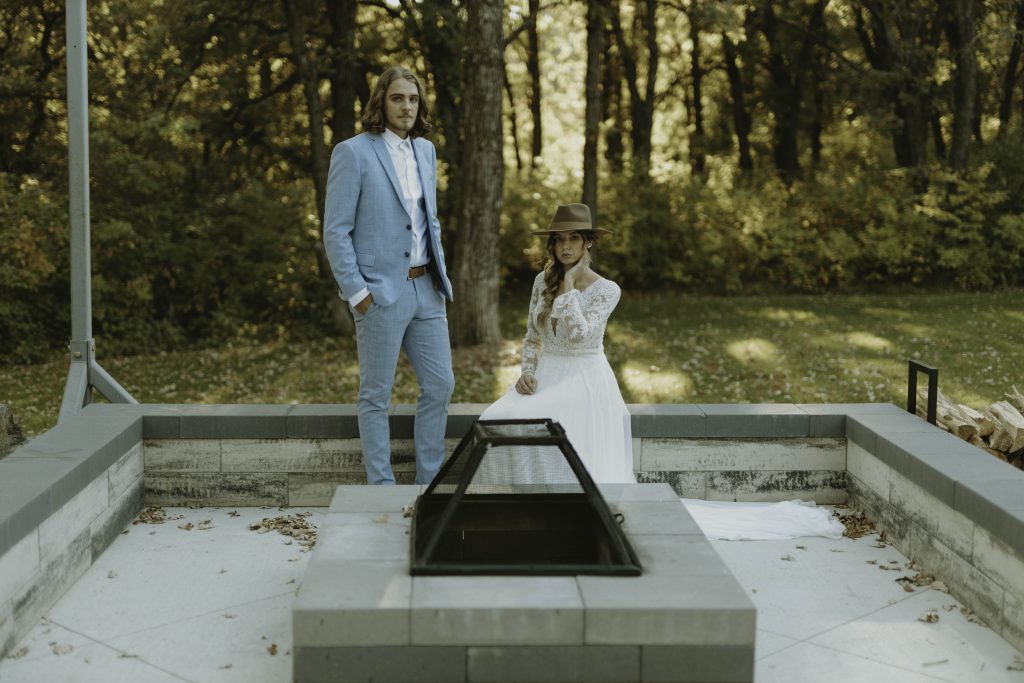 Trident Films – Videography
Content is Key and these shoots wouldn't be what they are if it wasn't for the photography and videography. We highly recommend Trident Films for couples looking to create a loving video story about their magical day – and Igor Prytsyuk, a new addition to our content team (and who has been working with Trident Films for years) was such a wonder to work with. Check out Trident Films!
Also follow Igor @igor.prytsyuk 
Emerald Beauty Company – Makeup
This chic and nude makeup application was done by Christina, the owner of Emerald Beauty Company – We are obsessed with her makeup skills. She is expanding her space into a full service salon this December! The 2022 bridal season is almost booked up, so check out her website below.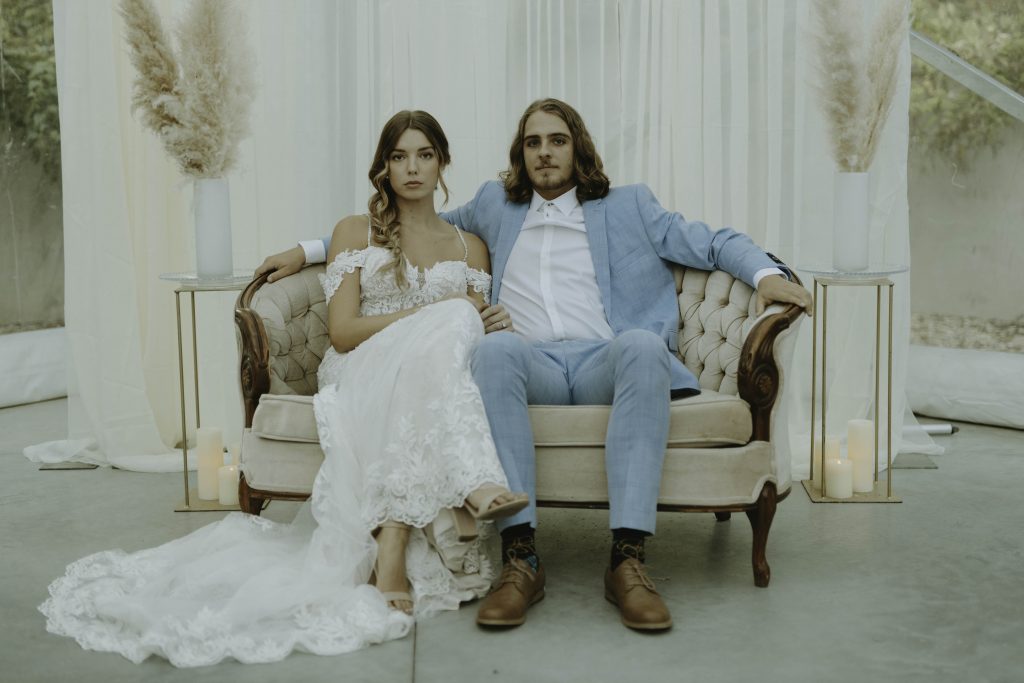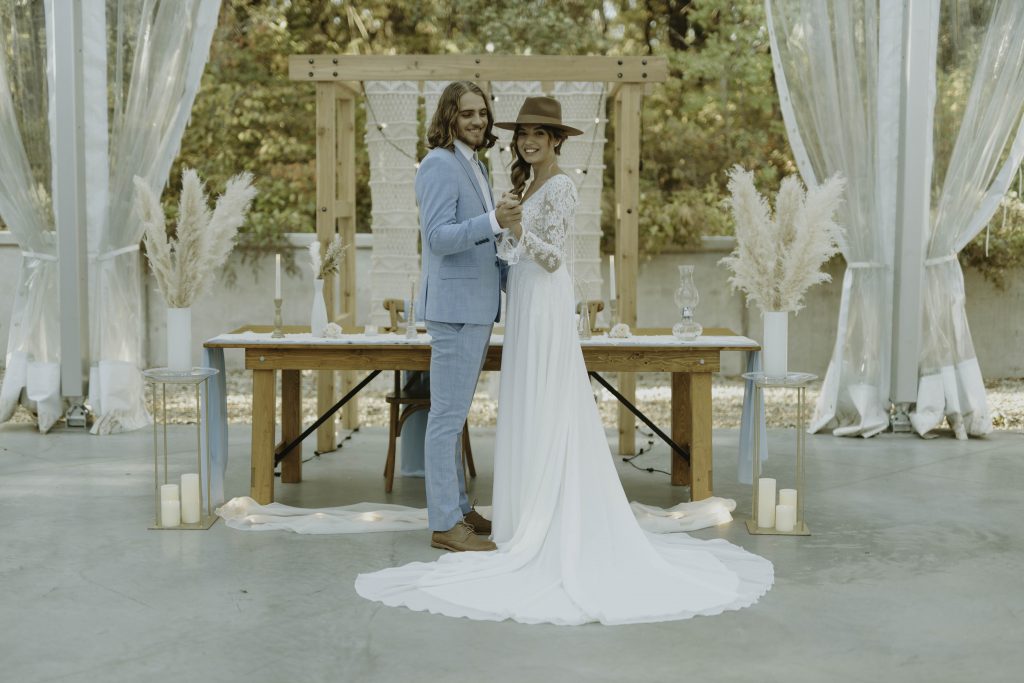 Sasha McCarty – Hair Stylist
Brooke's hair was styled by Sasha McCarty. This beautifully bold braid is absolutely gorgeous and gives all the boho vibes we could dream of. Check out Sasha on Instagram.
Brooke Derksen & Tyler – Models
Brooke Derksen is a local model, photographer, and hair stylist. She graced us with her presence as our blushing bride for this styled shoot and boy, did she deliver. Brooke's partner in crime for this shoot is Tyler, not a professional model but he definitely did an amazing job!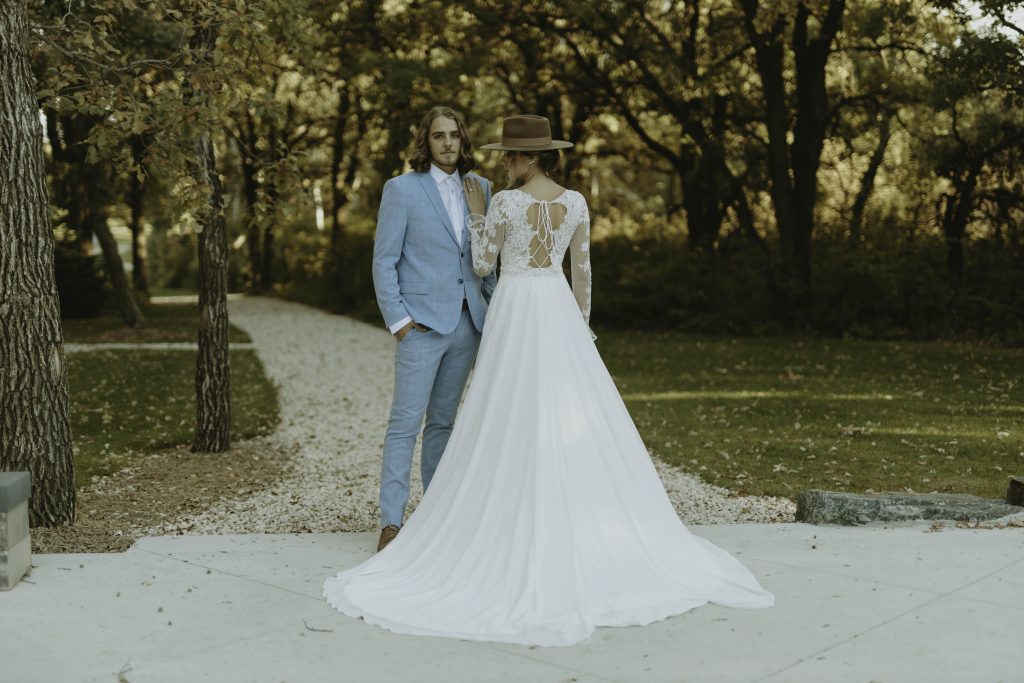 Check out our Boho Chic Look Book
Excited about this elegant and loving wedding design? 
Check out photos from our styled shoot in our Boho Chic Look Book or visit our Pinterest Profile!